About Us
SanDeks Group Ltd. Co., established by Dr. Samir JAFAROV in 2002, carried on business between the years of 2002 and 2008 in Çekirge, Kükürtlü district and moved to its own place in Bursa Hasanağa Industrial Trade Zone in 2008.
SanDeks, especially marketed the Polyethylene Petrochemical imported from Azerbaijan and Russia for some time, then concentrated its attention on exporting and finally chosen as one of the top 100 companies enriching the economy by BURSA CHAMBER OF COMMERCE AND INDUSTRY. Working as solution partners with the leading manufacturers of Turkey, SanDeks implement the substantial part of its export to Russia in the field of market equipments, cooling systems and shelf and rack display systems which plays a major role in the area of activity of the company. SanDeks Market also continues increasing its business volume year after year in the scope of turn-key supply of equipments for gross-markets and chain of markets to its partners in especially Russia and Belarus by offering the high-quality and trustworthy service.
SanDeks Automotive is proud of providing Turkish origin products to assembly lines of long-established Russian bus and minibus manufacturers and still cooperates with so many small and medium sized producers from not only Bursa but also Istanbul and Izmir. Besides the Russian manufacturers, the company carries on business in the scope of 'aftermarket' with the supply of an extended product range to automotive spare parts sellers and distributors by making these products manufactured in Turkey. As a natural consequence, SanDeks has become one of the most reliable and highly-respected solution partners by the help of its devotedness to providing high-quality services with established firm in Russia federation.
SanDeks Project Department is mainly dealing with the design of the turn-key projects such as food, agriculture and industrial facilities in abroad from preparation to production throughout the project implementation process. Within this content, SanDeks project team has established so many biscuit, milk&milk products, fruit-drying, wine and fruit juice plants in the trust of Turkish engineers by the help of its high-tech machines and equipments supplied from not only Turkey but also Europe and U.S. of America. These plants which can be seen in written and visual media are shown as prime examples and they keep producing successfully.
SanDeks Logistic has put all of its accumulated experience in Russian Customs Legislation of Import and Logistics into service for its Turkish and foreign clients. Within this content, SanDeks Logistic has undertaken the transport, custom clearance and insurance of both partial and full truck shipments of the exporter firms operating in Bursa, İzmir and İstanbul.
Sandeks Medical started to produce disposable and washable medical clothes during the Covid-19 pandemic. Sandeks Medical, exists in the sector with hygiene, reliability, quality production principles, has presented preferred products in the medical sector such as disposable gowns, overalls, sleeves ,masks,shoe covers, caps, corpse bag to choice of customers in international markets.
SanDeks group incorporated a construction company and than started to take a part in the sector in 2012. Sandeks Construction and Building Materials, started first project at Üçevler district and has proved experiences, corporate identity and professionalism gained from tens of turnkey operations has built before through the Project also continues to work precisely to national and international projects. Sandeks Construction and Building Materials, has offered for sales various building materials in its product catalog such as doors and polishes on world-renowned e-commerce sites such as Wallmart and Lowe's.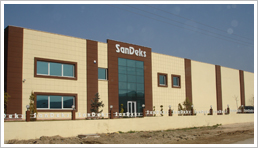 Vision;
To increase the prestige of our customers and become a worldwide brand with our all services with our perfectionist service quality ,reliability and work ethic.
Misson;
To provide fast, competitively and world-class servicing that meet the expectations of our customers with a dynamic team work in addition to be a first choice of customers and value-creating company with our reliability and high-grade work ethic with our solutions and after-sales services that we provide.